Art, Pictures & Paintings Installations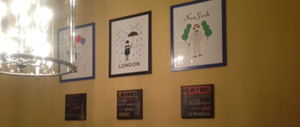 At ProHanging, customer satisfaction is our #1 priority.
"We believe that customer satisfaction is guaranteed, we will not rest until you are 100% satisfied "
Art and Picture hanging is our specialty. We started our organization based on these services and continue to provide a top-notch customer satisfaction service at its finest terms.
Hanging artwork and sentimental pieces is more than just hammering a nail on the wall, it's an Art on its own. We inspect all artwork to be safely hung on a particular wall, making sure that artwork will last a lifetime. We usually remove all wires associated with the artwork and hang it using two d-rings.
This way, your artwork stays stable on the wall, it has less stress on the hooks, and will always stay straight, even after you clean the glass.
Consultation and collage hanging
Call us today for a free consultation and a free quote. We can come to your location if you live within the Greater Toronto Area.
Our Mission
We're proud to serve customers throughout the GTA who need a professional hanging company or simply a Toronto Handyman service they can trust.
Contact Us Today!
Look no further when it comes to House and Condo Hanging Services. Click on the button below to contact us today.