Art, Pictures & Paintings Installations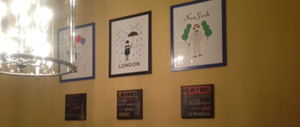 Art and Picture hanging is our specialty. We started our organization based on these services and continue to provide a top-notch customer satisfaction service at its finest terms.
Hanging artwork and sentimental pieces is more than just hammering a nail on the wall, it's an Art on its own. We inspect all artwork to be safely hung on a particular wall, making sure that artwork will last a lifetime. We usually remove all wires associated with the artwork and hang it using two d-rings.
This way, your artwork stays stable on the wall, it has less stress on the hooks, and will always stay straight, even after you clean the glass.