Bathroom Accessories Installations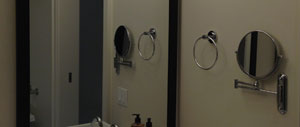 At ProHanging, customer satisfaction is our #1 priority.
"We believe that customer satisfaction is guaranteed, we will not rest until you are 100% satisfied "
Every bathroom, washroom, or powder room needs to have accessories in order to easily reach the much needed supplies such as Towels, Bathrobes, Toilet papers, or even shelving for your shaving cream.
We have been installing those bathroom accessories on a daily basis, so let us know if you would like those services performed for your environment.
Consultation and collage hanging
Call us today for a free consultation and a free quote. We can come to your location if you live within the Greater Toronto Area.
Our Mission
We're proud to serve customers throughout the GTA who need a professional hanging company or simply a Toronto Handyman service they can trust.
Contact Us Today!
Look no further when it comes to House and Condo Hanging Services. Click on the button below to contact us today.