Mirrors & Decorative items installations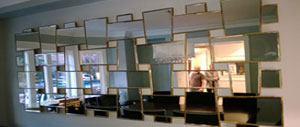 We specialize in hanging heavy and awkward mirrors. When you choose us to hang your heavy mirror, you get the protection of our 2 million dollars coverage policy.
We make sure your mirror does not hang from a wire, and provide all possible modification on the back of it, to assure you that your mirror will hang on your wall for as long as possible.
Mirrors are fragile in nature, there are many people and kids present around where mirrors are hung, so make sure you call the professionals to hang them the right way. Please do not attempt to hang heavy mirrors yourself.