Flat screen TV mounting!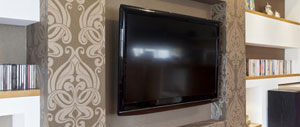 Installing and mounting a flat screen TV requires special skill and the right set of tools.
Let us hang your TV's safe and sound with the expertise you deserve.
If you don't have the bracket to hang the TV, we can supply you one.
Whether you have drywall or concrete, we can hang your TV and include our satisfaction guarantee.