Bathroom Accessories Installations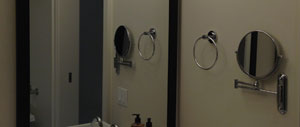 At ProHanging, customer satisfaction is our #1 priority.
"We believe that customer satisfaction is guaranteed, we will not rest until you are 100% satisfied "
Every bathroom, washroom, or powder room needs to have accessories in order to easily reach the much needed supplies such as Towels, Bathrobes, Toilet papers, or even shelving for your shaving cream.
We have been installing those bathroom accessories on a daily basis, so let us know if you would like those services performed for your environment.